Washing your deck with a pressure washer is a very satisfying experience! Watching months or years' worth of dirt and grim washed away so effortlessly to reveal a sparkling, new deck you can take pride in would make just about anyone beam with joy. Having your deck be clean not only is a satisfying process, but it enhances your curb appeal, maintains the materials for years to come, and creates a new entertainment space for all your guests!
But when is the best time to power wash your deck?
When to power wash your deck
For starters, you will definitely want to avoid the cold winter months (unless you are hoping to turn your deck into a personal skating rink). When temperatures drop below freezing, you know it's no longer a good idea to power wash.
A good rule of thumb is to wait for a warm day with plenty of sunshine and little to no wind. Realistically, any time when the temperature consistently remains above freezing provides the opportunity for pressure washing your deck. Still, each season provides different benefits for power washing!
Spring — When the winter snow melts, you are often left with mold and mildew spotting your deck. Powerwashing in the spring stops these growths from spreading by removing them completely.
Summer — Summer months are perfect for outdoor entertaining. Power washing in time for summer allows you to have a safe and shiny deck for all of your backyard parties or gatherings.
Fall — When the summer heat transitions to the cool of fall, your deck will have taken some hits. Stains from barbecues, dirt and grime, and more can really build up. Powerwash your deck in the fall to get it ready for winter.
How often should you pressure wash your deck?
How often you pressure wash depends on the material your deck is made out of and how much dirt and grime it accumulates. If you need to add a fresh coat of stain to your deck, try pressure washing just once a year! If your deck is constructed from pressure-treated wood, consider pressure washing twice a year: once in the springtime to blast away all of that mold and mildew from winter, and again in the fall to prepare it for winter.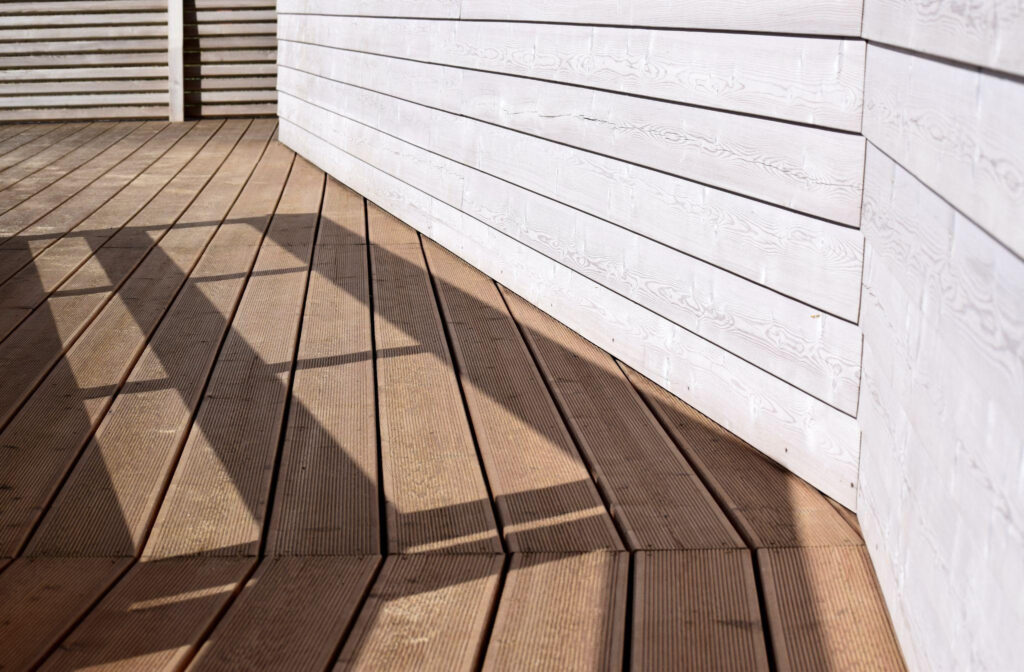 When shouldn't I pressure wash?
Pressure washing isn't for every material, so make sure that if you are experimenting with pressure washing by yourself, you take precautions and remember that not every surface is primed to handle pressure washing.
For example, if your deck is stained, pressure washing will blow the stain right off. So if you aren't planning to re-stain, then you'll have to clean your deck with another method, like a garden hose and a scrub brush. Even if you wanted to remove the stain, you have to be sure to use the proper settings and nozzle so that you don't permanently damage the wood.
In sum, make sure your cleaning method is matched to your particular deck. If you think you might benefit from expert advice, then get in touch with us, and we'll point you in the right direction.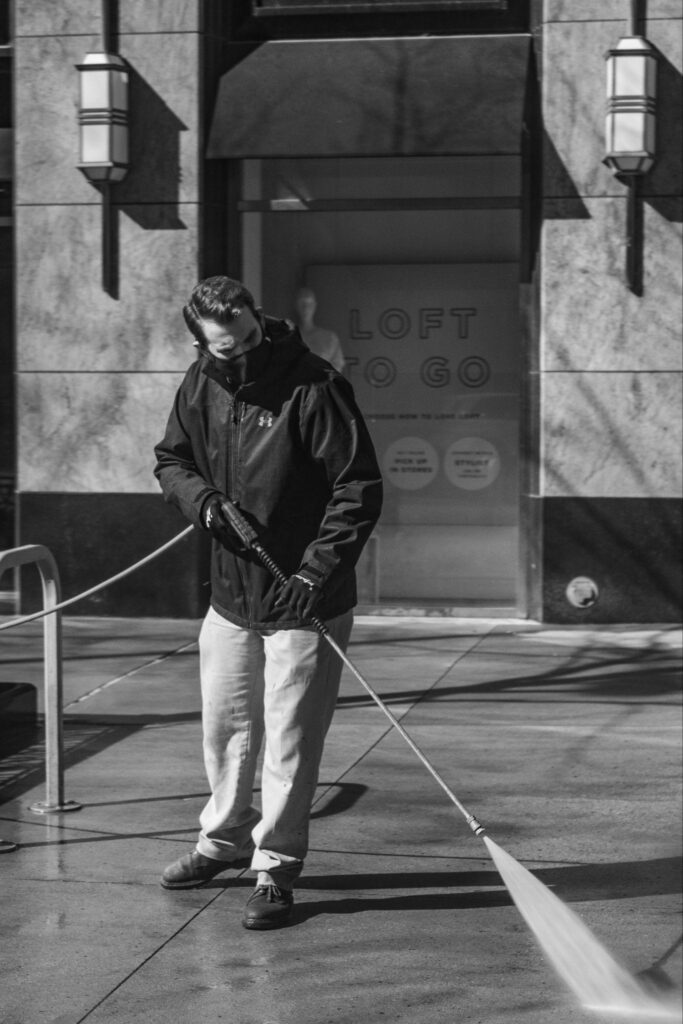 What if I want to add sealant?
Adding an extra layer of protection to your wooden deck is a great idea for preserving the deck! Sealant typically lasts for a few years before it needs to be reapplied. But, if you are adding sealant, it won't do its job unless it is applied under the appropriate conditions. You must apply sealant after power washing, but the deck has to be completely dried first! After washing, allow your deck to completely dry out. This should take around 24–48 hours, and then you can apply your sealant of choice!
The best time to clean your deck
With the constantly changing weather in our area, keeping your home clean needs to be a priority in order to preserve its life, beauty, and keep up the curb appeal. A clean deck contributes greatly to your overall home aesthetic, so really, if your deck is dirty, there's no better time than today to get started.
As always, if you need help, let us know, and we'd be glad to help you identify the best way to clean and treat your deck.