Your deck is more than just a wooden platform; it's an extension of your home where you create cherished memories with friends and family. However, the outdoor elements can take a toll on your deck's appearance and structural integrity over time. That's where Atkins Deck Treatment Services steps in to revitalize your outdoor space. In this blog, we'll explore the importance of deck treatment and why Atkins Deck Treatment Services is the go-to solution for maintaining your deck's beauty and functionality.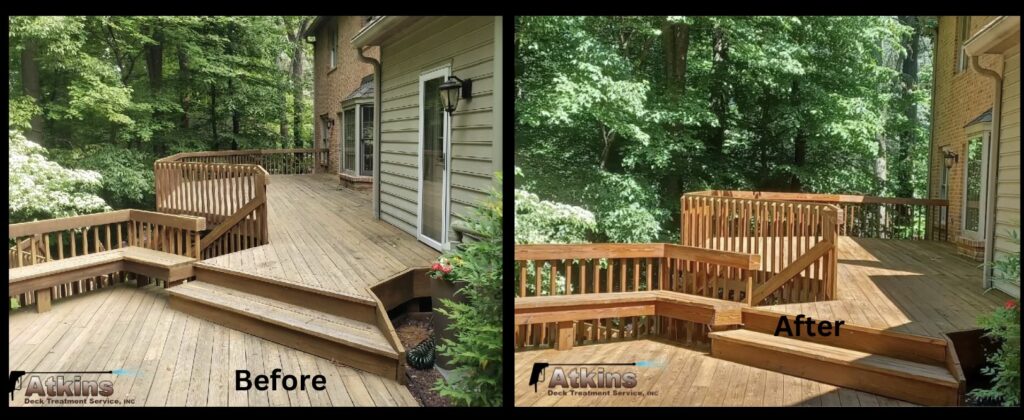 The Atkins Difference
Atkins Deck Treatment Services is not your average deck treatment company. What sets them apart is their commitment to excellence, vast expertise, and personalized approach. Whether you're a homeowner or a business owner, Atkins has a tailored solution for your needs.
Professional Expertise
With years of experience in the field, Atkins knows decks inside and out. Their team of professionals understands the unique requirements of various deck materials, climates, and local conditions. This knowledge ensures that your deck receives the best possible treatment.
Comprehensive Services
Atkins offers a range of services to suit your deck's needs, including deck cleaning, staining, sealing, repairs, and restoration. They tailor their services to meet your specific requirements, ensuring that your deck looks pristine and remains sturdy.
Quality Materials
The products used by Atkins are of the highest quality, which guarantees long-lasting results. From top-notch deck stains to eco-friendly cleaning solutions, they only use products that meet their stringent quality standards.
The Importance of Deck Treatment
Your deck faces the harshest of elements year-round, from scorching sun and heavy rain to snow and freezing temperatures. Without proper treatment and maintenance, it's susceptible to damage and deterioration. Here's why deck treatment is crucial:
Protection
Deck treatment provides a protective barrier against moisture, UV rays, and mold. Without this protection, your deck can develop cracks, discoloration, and even rot.
Aesthetic Appeal
Deck treatment enhances your deck's appearance, making it look as good as new. Stains and sealants come in a variety of colors and finishes, allowing you to customize your deck's look to suit your style.
Longevity
Regular treatment can significantly extend the lifespan of your deck. By preventing moisture from penetrating the wood, you reduce the risk of structural issues and costly repairs.
Safety
Proper deck treatment not only maintains its beauty but also ensures the safety of your family and guests. Slippery, algae-covered decks are a hazard waiting to happen, and Atkins can address this issue efficiently.
Services Offered by Atkins Deck Treatment
Deck Cleaning
Before any treatment can be applied, a thorough cleaning is essential. Atkins uses advanced cleaning techniques to remove dirt, mold, algae, and other contaminants that may have built up over time.
Deck Staining
Staining is a vital part of deck treatment as it not only protects your deck from the elements but also enhances its visual appeal. Atkins offers a wide range of stain colors and finishes to match your preferences.
Deck Sealing
Sealing helps to lock in the stain and provides an extra layer of protection against moisture. This is particularly important for decks exposed to high levels of humidity or those located near pools and other water features.
Deck Repair
If your deck has suffered damage, Atkins can repair it efficiently. Whether it's dealing with cracks, loose boards, or structural issues, their team has the skills and knowledge to restore your deck to its former glory.
Deck Restoration
For older decks that have seen better days, Atkins provides comprehensive restoration services. They can turn back the clock, making your deck look and feel new again.
The Atkins Process
Here's an overview of the typical process when you engage Atkins Deck Treatment Services:
Consultation
Atkins starts by understanding your needs and inspecting your deck. They'll provide a personalized plan and a cost estimate based on the work required.
Cleaning
The team begins by thoroughly cleaning the deck to prepare it for treatment. This step removes dirt, stains, and contaminants, ensuring the best results.
Repairs
If any damage is present, Atkins will make necessary repairs to ensure the structural integrity of your deck.
Staining and Sealing
The staining process is where your deck's aesthetics are transformed. The stain color of your choice is applied, followed by a sealing layer to protect the wood.
Final Inspection
Atkins conducts a final inspection to ensure that the deck meets their quality standards. Only once they're satisfied with the results will they consider the job complete.
Atkins Deck Treatment Services is your partner in maintaining and enhancing the beauty, longevity, and safety of your outdoor deck. Their comprehensive services, professional expertise, and dedication to quality make them the ideal choice for your deck treatment needs. So, if you're looking to breathe new life into your deck, don't hesitate to reach out to Atkins – your deck will thank you for it.